B2Run Karlsruhe
2019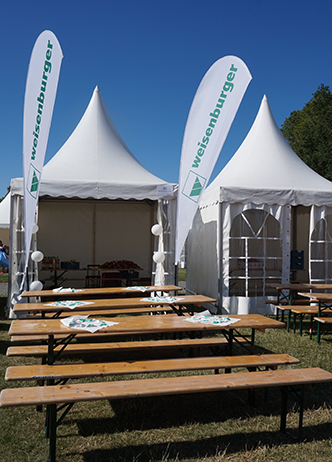 Karlsruhe - The 11th annual B2Run in Karlsruhe enjoyed great popularity again this year. More than 9,200 participants from around 460 companies took part in the company run. The B2Run was not only fully booked out, but also broke the Karlsruhe record for runners at the starting line. 66 weisenburger employees from different locations also took part.
This year, the 5.35 km long route led through the Palace gardens. The goal was not the Wildpark Stadium, as in recent years, but Karlsruhe Palace. Whether taking part seriously, just for fun or as a Nordic walker, the team experience was the main attraction of the event. Running together, having fun, maintaining or establishing contacts with colleagues. The run offered the perfect opportunity to get to know new colleagues and employees from other locations. Throughout the run there were refreshing drinks at the weisenburger stand in the Palace gardens, and after the race plenty of food and drinks were offered there as well. All participants enjoyed the impressive atmosphere directly next to the Palace.
The B2Run Karlsruhe 2019 was a real highlight for all participants. Of course, all runners from weisenburger made it successfully across the finishing line and earned their 2019 B2Run participant's medal. We are already looking forward to the next B2Run.